Parkour is like a fun game where kids get to use their bodies to conquer obstacles and explore their environment. In our kids classes, your child will learn cool moves like jumping, vaulting, landing, climbing, running, balancing, and swinging. With practice, they'll start seeing the world around them in a whole new way, finding new places to explore and adventure! Our awesome coaches provide a safe and encouraging environment, helping kids build their confidence and body awareness while having a blast. Sign up your child for our kids classes today and watch them become a parkour pro!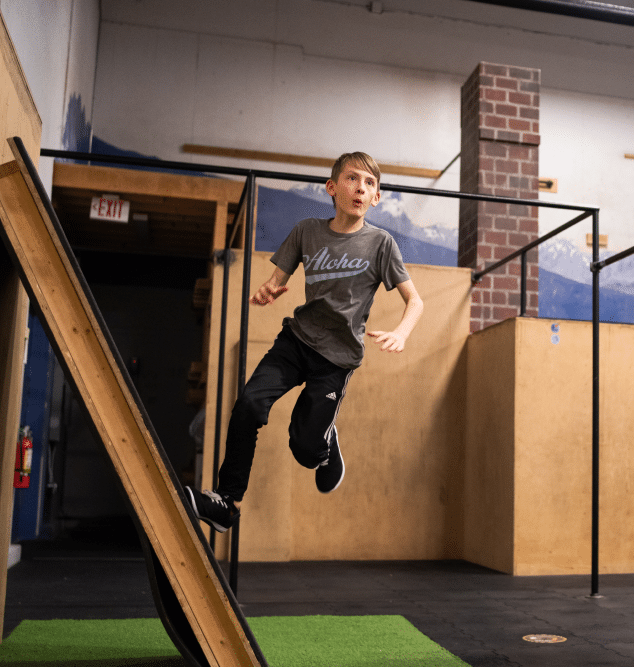 (Yellow Band and Up) Get ready to zoom through obstacles and test your speed in our kids speed class! Each week, we'll present a fun and unique course with boundaries and challenges that you'll navigate as fast as you can. But don't worry – you'll go at your own pace and your coach will help you come up with strategies that work for you.
Our speed class is also a great place to make new friends and cheer each other on! With our supportive coaches and fun group atmosphere, your child will have a blast while boosting their agility and speed. Sign up your child for our kids speed class today and watch them soar! 
Parkour Classes are suitable for all levels of ability. Classes are split up into groups based on band levels. Certain bands also give you access to more advanced classes. A band is awarded when a student completes an exam consisting of specific movements and skills. 
Let us make the registration process effortless with a personalized tour, ensuring all your questions are answered before you begin your exciting journey at Origins. 
BOOK YOUR FREE CONSULTATION
We've love to hear from you. If you have any questions or want to sign up, feel free to call us at 604-558-1779 or fill in the contact form below. We will get back to you as soon as possible.